Become a Premium Member! Enjoy Max 12%OFF On EMS Shipping Rates
Release time: 2018-06-01 00:00:00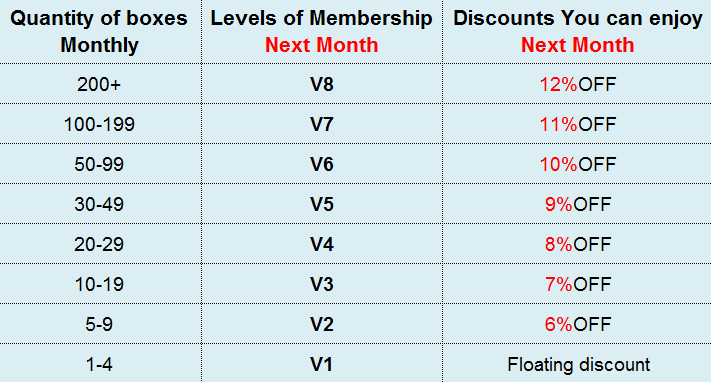 Rules & Conditions:
1.From January 2018, Leyifan offer you"Premium Member Discounts", according to the quantity of boxes this month, next month you would automatically be upgraded to become a premium member and enjoy a corresponding discount on EMS boxes next month.
2.For example, on September, there are 50 EMS paid boxes & 10 AIR paid boxes, the quantity of boxes is 60, so the level of membership on October will be V6, you can enjoy 10%OFF discount on EMS boxes on October.
3.Boxes data comes from all means of transportation (exclusive of Japan domestic package returns).
4.Quantity of boxes monthly means the number of paid packages.
5.According to the membership level at the time of payment, enjoy the different premium membership discounts.
6.V1 discount is floating & uncertain, according to Leyifan real-time promotions.