HOW IT WORKS
Just 3 steps, you can shop at all Japanese online shops easily.


Sign up Leyifan.com
Get your Leyifan address for receiving package in Japan.


Shop at Japanese online shops
Simply list your Leyifan address as a domestic shipping address.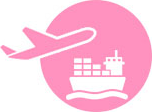 Wait your packages sent home
Leyifan forward your packages to your home.
FEATURES
Enjoy a fast and worry-free shipping experience with Leyifan's extensive experience,
industry-leading expertise and unmatched member service.
Free Registration & Free Membership

Sign up free & no monthly fee, just register at Leyifan, you will get your Japanese address for your shipping needs.

Free 30 days
Storage

Customer can store each package for free for a period of 30 days from the date of arriving at the warehouse.

Free
Repackaging

We can remove all unnecessary packaging to reduce weight of your packages to low shipping cost.

Automated warehousing

Automated storage and retrieval system offers more efficient service for you.

Long-term Shipping Discounts

All our customers benefit from deeply long-term discounted shipping rates.

Helpful
Customer Support

We are there every step of the way to ensure you receive your package on time, in perfect condition.